PPGI prepainted coil
Introduction: 1 Commodity:prepaintedgalvani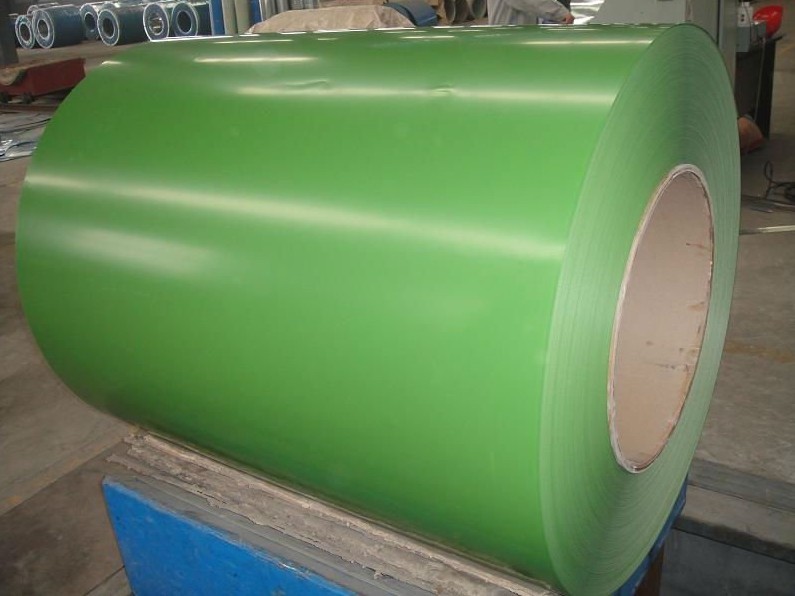 Introduction:
1.Commodity: prepainted galvanized steel coil/ppgi color coated steel coil
2.Thickness: 0.14-1.2mm
3.Width: 600mm-1250mm
4.Color: RAL tone
5.Material: DX51D,SGCH,CGCC,SGCC
6.Coating: Top--5-12micron
Back--10-25micron
7.Coil weight: 3.0-10.0MT,as you request
8.Coil ID:508/610mm
9.Zn: 40-275gsm
10.Package: wrapped by plastic film and waterproof paper, and galvanized iron sheet.
11.MOQ : 5 tons
12.Delivery times : 15- 20 days after received your deposit
13:Payment terms : T/T or L/C
Advantages of color coated steel coil:
1) Excellent corrosion resistance: The zinc layer provides a good protection of Pre-painted Galvanizeed Steel Sheet.
2) High heat resistance: The reflective surface of the material aids in efficiently reflecting
the sunlight away and in turn reducing the amount of heat transmitted. The thermal reflectivity
converts into energy savings.
3) Aesthetics: Pre-Painted Galvanized steel sheet is available in plethora of patterns and multiple sizes as per the
requirements that given by our customers.
4) Versatility: can be used in the various areas.
Applications of color coated steel coil:
1) Buildings and constructions: roofing, ceilings, gutters, venting lines, indoor decorations
, window frames, etc.
2) Electrical appliances: computer shells, washing machines, refrigerators, dehumidifiers, video
recorders, water heaters, etc.
3) Agricultural equipments: troughs, feeding tools, agricultural driers, irrigation channels, etc.
4) Vehicle parts: back-seat plates of buses and trucks, conveying systems, oil tanks, etc.
Why Choose US?
1.Advantages: We have two production line of PPGI and two lines for the galvanized steel coil,
total yearly output is about 500000mt Also we have 56 professional salesperson from three
international sales department, a group of technical engineers And skillful quality control inspector.
2.Slitting Machine:We have two slitting machine of steel coil,so we can produce steel strips
as customers request .In Order to meet our customers new requirements, We also can manufacture
the special Products, such as Printed, Filmed, Pressed, Matte steel coil and the full hard G550
Galvanized steel and galvalume steel.
3.Transport&Loading Advantages:
We have own Logistic Company,it鈥檚 the first agent of MSK,MSC,CMA,YML and so on.We also
have specifical reforcement team,can save time and money for you.